Testimonials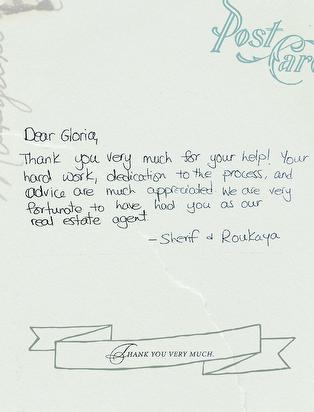 Hi Gloria,
Happy Easter hope you and your family had a great weekend together.
It was a pleasure working with you in the last few months. You were helpful and available, honest and sincere and both Kiki and I were happy to have you as our agent. Your help was greatly appreciated in the conclusion of both transactions: sale and purchase.
I would like to post these recommendations to you so you can show them to future clients:
 
Very focused and pro-active agent.

100% commitment to her client

Very driven to achieve results for her client

Gloria's hard work and warm personality made the selling experience very easy and comforting.

 
Will call you to invite you round to our new home.
All the best
Bill and Kiki Galakoutis
" We would like to express our deep gratitude to you for your guidance and expertise in the sale of our home .We are happy to have chosen you as our agent . We appreciate your understanding, your generosity , patience and above all, you were always true to your words. Your personality and professionalism are exceptional. Again we thank you for standing by our side and helping us as we took this important step in our lives. Best of luck in your future."
With love,

Amira and Instian
REAL ESTATE AGENT EXTRAORDINAIRE.
Professional and passionate with the integrity and perseverance to fulfill a dream.
From our very first encounter with Gloria, - on a whim, and a phone number from a realtor's sign – asking for information and our subsequent discussions, we felt that '' Gloria '' had the insight and knowledge to listen, appreciate and understand what we were interested in accomplishing.

How Refreshing.
No stone was left unturned. Questions, answers, and more questions and at all hours.
For every obstacle there was a solution.
Your expertise, your listening and negotiating skills were paramount in bringing all parties to the table. The perk of The Royal LePage insurance which you so generously offered was invaluable in the selling of our properties and the purchasing of our dream home.
WE WHOLE HEARTEDLY ENDORSE '' GLORIA BALADI [ ROYAL LEPAGE] AS A REAL ESTATE AGENT EXTRAODINAIRE.
Dave & Lu
Dear Gloria,
As first time home buyers, we were very nervous and worried about our first dream home purchase as it's not every day one can buy a home. Lots of questions & hesitation to purchase in this hot market. We are really happy to have met you. Once we gave clear requirements of our dream home, you have solved the home puzzle in a short time with great deal of patience considering the crazy market. We really value your sound judgment & strong command in this market. I guess no one can match you in this aspect. We have followed your careful recommendations and sensible advice to make our good decision in the end. We are greatly indebted to you Gloria !. You have delivered our new baby (new home) where we will realize our dreams. This is straight from our heart to your heart.
Thank you for answering all my infinite questions ! ha ha
Best Wishes -
Kiran & Leela
Kiran & Leela
I sold my condo in the Greater Montreal area a couple of years ago with the help of Ms. Gloria Baladi, realtor at Royal LePage .
My experience in selling properties is limited and thanks to Gloria's efficiency I was able to obtain above market price for my asset in a relatively short time with complete satisfaction of the buyer.
Gloria's efficiency and continued follow up has brought success to this important transaction.
I would not hesitate in recommending Gloria Baladi's expert services to anyone considering to buy or sell real estate in the greater Montreal area.
Magdi Samman
Gloria is absolutely a fantastic agent.
When it was time to sell our condo she made the selling very easy, stress free and worked hard at negotiating the best price . She focused on our needs rather than just trying to close the deal. She is knowledgeable,  professional and we would encourage anyone looking for a new home or wanting to sell their home to give her a call.
Nayla Samman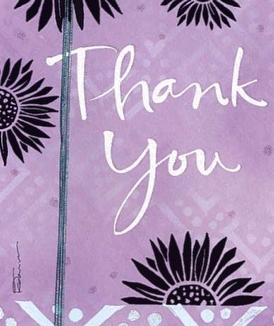 It was my pleasure to work with this lovely couple!